Myanmar
Mary's Meals feeds 1,930 children every day in Myanmar!
Published on
Life in Myanmar
Myanmar is currently ranked 149 out of 191 countries and territories in the Human Development Index (HDI).  Over one quarter of the population is living in poverty and nearly a third of children under five have stunted growth.  It is one of the top three countries in the world affected by natural disasters and suffers frequently from extreme weather events. Livelihoods, sanitation, health and nutrition all suffer as a result. Around 91,889 children in Myanmar currently out of school.
Myanmar has struggled to recover from the effects of multiple crises in recent years. In 2015, Cyclonic Storm Komen – an unusual tropical cyclone that originated near the southern coast of Bangladesh and later struck Myanmar, Bangladesh, and India – devastated the country, displacing 1.7 million people.
Also in 2015, tens of thousands of Rohingya people were forcibly displaced from their communities and IDP camps in Rakhine State due to violence. Since the latest outbreak of conflict, in August 2017, this number has risen into the hundreds of thousands and over one million people have been forcibly displaced.
The country has been in fresh turmoil since 2021, with political instability and huge pro-democracy protests often resulting in violent clashes with the current junta.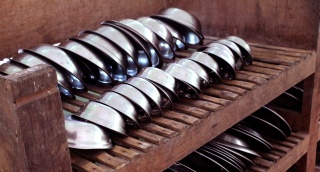 Mary's Meals in Myanmar
Mary's Meals has been serving school meals in Myanmar since 2008, when Cyclone Nargis left thousands of children living in unstable environments.
We work with a partner organisation, the Episcopal Commission for Education, which offers residential accommodation and access to education to vulnerable and displaced young people.
We are currently serving 1,930 children in 18 residential boarding houses in Myanmar.
Food Changes the Story
Help us reach the next hungry child
How many children do we feed in Myanmar?

We are currently feeding 1,930 in 18 centres.

What meal do we provide?

We typically serve chicken, beef or fish with vegetables, served with beans, potatoes or noodles.

What is the capital of Myanmar?

The capital of Myanmar is Naypyidaw.

What language(s) are spoken in Myanmar?

Burmese is widely spoken as the official language but there are more than 100 others.

What is the population of Myanmar?

The population of Myanmar is 54,121,519.

What currency is used in Myanmar?

The Myanmar Kyat (MMKs).