Zambia
Mary's Meals feeds 376,407 children every school day in Zambia!
Published on
Life in Zambia
Zambia is currently ranked 146 out of 189 countries in the Human Development Index (HDI).  The World Food Programme estimates that almost 50% of the people in Zambia are unable to meet their daily calorie requirements and, with survival taking precedence over education, some 45% of Zambia's primary school-aged children drop out of school early.
Zambia is a landlocked country situated on a plateau in South-central Africa. It takes its name from the Zambezi River, which starts in Zambia and flows through countries including Angola, Namibia and Botswana, before meeting the Indian Ocean. Zambia is bordered by Tanzania and the Democratic Republic of the Congo to the north, Angola to the west, Namibia, Zimbabwe, and Mozambique to the south, and Malawi to the east.  Zambia has a mostly humid, sub-tropical climate with an average rainfall of 34 inches per year (falling mostly in December). It is mostly high, flat terrain and less than 5% of the land is suitable for farming crops.
The country suffers from high rates of malnutrition, poverty and food insecurity. For those children who are able to attend school, one million go to class hungry.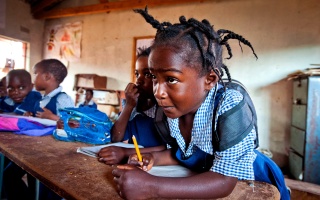 Mary's Meals in Zambia
Marys' Meals has been serving school meals to hungry children In Zambia since 2014.
We are the main provider of school meals where we operate in the Eastern Province of the country – Chipata, Mambwe, Chipangali, Lumezi, Lundazi, Chasefu and Kasenengwa. We work in collaboration with representatives from the Zambian Ministry of Education and other key stakeholders.
We are currently serving 376,407 children in 752 schools across the country.
Food Changes the Story
Help us reach the next hungry child
When did we start working in Zambia?

Marys' Meals has been serving school meals to hungry children In Zambia since 2014

How many children do we feed in Zambia?

We are currently feeding 376,407 children in 752 schools in Zambia.

What meal do we provide?

Maize and soya porridge (fortified with vitamins and minerals).

Where are we based/where do we operate?

We work in 10 districts in Zambia, where Mary's Meals is the main provider of school meals in Chadiza, Chasefu, Chipangali, Chipata, Kasenengwa, Katete, Lumezi, Lundazi, Mambwe and Vubwi.

What is the capital city of Zambia?

The capital city of Zambia is Lusaka

What language(s) are spoken in Zambia?

Zambia's official language is English, but there are more than 70 different languages and dialects spoken throughout the country

What is the population of Zambia?

The population of Zambia is 19,439,243

What currency is used in Zambia?

Zambian Kwacha (ZMW)