Fundraise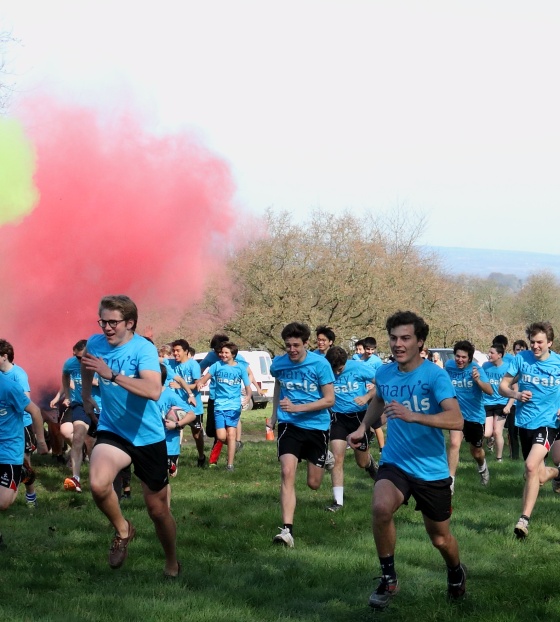 Start fundraising
Create an account and start a fundraising project
Find a project
Find and donate to an existing fundraising project
There are many ways you can donate to charity
Fundraisers are a vital spark helping to keep Mary's Meals' light burning.
These tireless, generous people generate funds to put food on plates for more than 2 million vulnerable children across the globe every school day. Each of their efforts is inspirational – from a child with pocket money to donate to charity, to fundraising events involving entire communities.
Your actions can make a real and lasting change to the lives of children living in some of the poorest countries in the world.
Important information for Fundraisers
Before embarking on your fundraising journey, we recommend you read our information document.
Spotlight on fundraisers
Thousands of people are already helping to give children the chance of a better future through Mary's Meals, and feeling the benefits themselves. Our supporters love to share how good they feel about raising money for vulnerable children. By giving the love, they feel the love!
Meet some of our fundraising heroes ...
Coin Collection
Volunteers all over Ireland have been busy collecting coins since the start of the year.
It is estimated that there is still more than €350 million unaccounted for Irish Punts since the switch to Euro, and our Mary's Meals veteran, and superstar volunteer, Fr Eamonn Kelly, from Co. Donegal, has set himself the ambitious goal of collecting it all (or at least a large proportion of it), to support the children served with Mary's Meals!
So far, this fundraising initiative has raised to enough to feed more than 2,730 children.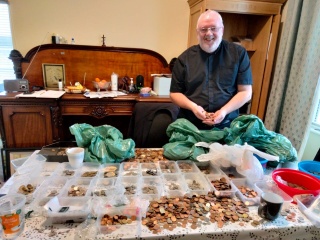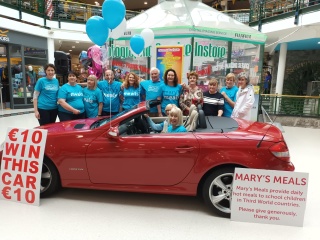 Offaly Car Raffle
In September 2022, we were approached by our volunteers in Offaly to say that they had been donated a beautiful second-hand Mercedes convertible to raffle in aid of Mary's Meals.
The kind and generous volunteer, Rose, who donated the car, knew that the raffle would not only raise a substantial amount towards school meals, but it was also an exciting way to raise awareness of our work and reach new audiences. The fundraiser was highlighted by regional newspapers and radio stations and raised enough to feed more than 2,850 children for an entire school year!
Car Boot Sales 
Car boot sales are a fantastic way to raise funds for our school feeding programme and can provide an excellent opportunity to introduce new people to our work. It's also a great way to clear the clutter!
One of our superstar supporters, Geraldine, from Tynagh, Co. Galway, joined a few car boot sales and managed to raise a substantial amount of funds to support the school she is sponsoring in Zambia.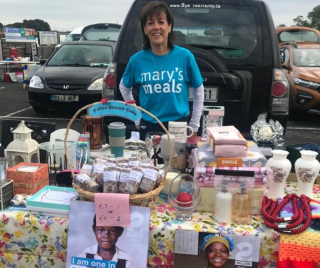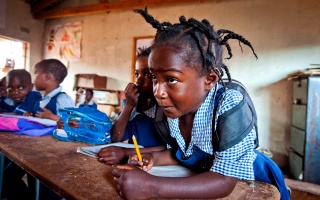 Online Monthly Quiz
During the pandemic, online social gatherings, especially quizzes, became the norm. One supporter, Martin from Co. Wexford, seized the opportunity to promote and raise funds for Mary's Meals, by launching a monthly online quiz.
Even since the return of in person events and gatherings, the online quiz continues to build momentum and, to date, the quiz has raised enough funds to feed 1,289 children for an entire school year in their place of education.
The quiz is just €5 to enter, and takes place on the last Friday of every month. For more details keep an eye on our social media.
A few fun ways to raise money for our charity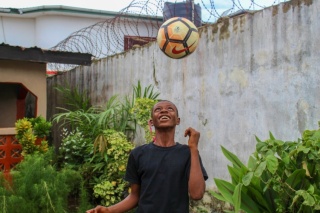 Bake sales always draw a crowd. Selling homemade cakes and treats is a surefire way to make people smile and a great way to raise funds for our work. When fundraising by selling food please follow the safety advice on https://www.safefood.net
Get on your bike and clock up the miles – whether it's on a unicycle, tandem, or even a penny farthing – it doesn't matter what kind of bike you're on, just remember to ask for sponsorship!
Fill a mug! You can collect donations at home, in your school, or at your place of work and every €22 raised will buy a school meal for a hungry child for an entire year. You can transform any mug into a money box using our Fill Mugs pack
Gaming for good. Why not have an online duel with friends where people pay to play?