Malawi
Mary's Meals feeds 1,080,852 children every school day in Malawi
Published on
Life in Malawi
Malawi is one of the poorest countries in the world, ranking 169 out of 191 countries and territories in the Human Development Index (HDI).  A staggering 70% of the population live below the international poverty line ($2.15 a day) and 34% of children under five have stunted growth.
Malawi has consistently high levels of food insecurity and the population are increasingly vulnerable to the effects of climate change.  As families struggle to find enough food to eat, survival takes priority over education.
Malawi is a landlocked country in southeastern Africa which occupies a narrow strip of land along the East African Rift Valley.  The country is renowned for its spectacular lakes and sprawling highlands.  Lake Nyasa, known as 'Lake Malawi', makes up more than one-fifth of the country's total area.
Often referred to as 'the small country with the big heart', Malawi is renowned for the warmth of its people.  Malawians typically live with their extended families in small, local villages and there is a real spirit of togetherness and cooperation as family members share work and resources.
The average monthly wage is around 164,000 Kwacha (£147) per month.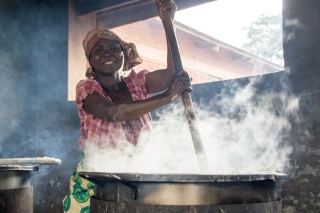 Mary's Meals in Malawi
Mary's Meals has been serving school meals in Malawi since 2002, when our founder met a 14-year-old boy, Edward, who told him: "I want to have enough food to eat and to be able to go to school one day." It is where Mary's Meals began our work by feeding just 200 children.
Malawi is the largest programme, delivered by Mary's Meals Malawi operating in 989 schools with a further 55 schools served by our partner MCSPA.
We feed more than one million children every school day with the support of tens of thousands of volunteers from local communities across the country who prepare and serve the nutritious meals.
The majority of schools receiving Mary's Meals are in the Southern region, with large numbers also supported in both the Central and Northern regions of Malawi. We also reach pre-school age children in nurseries who are most vulnerable to the effects of malnutrition.  
We operate out of Blantyre in southern Malawi and have more than 100 employees who manage, deliver and monitor our programme.
Food Changes the Story
Help us reach the next hungry child
When did we start working in Malawi?

Mary's Meals has been serving school meals in Malawi since 2002

How many children do we feed in Malawi?

We currently serve 1,080,852 children in Malawi

What meal do we provide?

The typical meal provided is a maize and soya porridge, known as likuni phala and fortified with essential vitamins and minerals

Where are we based/where do we operate?

We operate out of Blantyre in southern Malawi. The majority of schools receiving Mary's Meals are in the Southern region, with large numbers also supported in both the Central and Northern regions of Malawi

What is the capital of Malawi?

Malawi's capital and largest city is Lilongwe

What language(s) are spoken in Malawi?

English is the official language in Malawi, however, only 26 percent of adults over 14 years old are proficient in the language. Chichewa is the native language of about half of Malawi's population

What currency is used in Malawi?

Malawian Kwacha (MWK)

What is the population of Malawi?

The population of Malawi is 19,431,566