International Day of Education
The fifth international day of education will be celebrated on 24 January 2023
Published on
At Mary's Meals, our work to serve some of the world's poorest children takes us to the heart of communities where high numbers of children face extreme hunger and are missing out on education. Our experience of working with vulnerable communities has shown time and again that the promise of a nutritious meal served in a place of learning can fundamentally change the course of a child's life. Young children who might have spent their days working in fields to make ends meet or felt pressured to marry at a very young age suddenly have the opportunity to attend school – their best chance at breaking free from the grip of poverty in future.
Today on International Day of Education (24 January), we are taking a closer look at some of the countries where we work to showcase the impact of our school feeding programme in different education settings and to meet some of the incredible people helping to shape the lives of the next generation. The learning environments where our meals are served vary from country to country and even village to village – one size does not fit all. Many children learn in traditional indoor classrooms while others will be taught under a tree to shelter from the elements.
Our programme in India reaches children attending non-formal centres. These learning spaces can be set up in people's homes, in what would normally be living spaces, to reduce the amount of travel required and to make it easier for children to attend. Other centres are located near building sites or rubbish dumps. All these settings share a common purpose – they are places where children can acquire knowledge and skills to prepare them for life and work, and the nutritious meals we serve are essential in helping children to concentrate and learn, no matter where they are sitting.
Paving the way for future generations in Kenya
Magdelene Natapar Naumo is a teacher at Kakore Early Childhood Development Education centre (ECDE) in Turkana, Kenya and is hopeful that education will transform the lives of the children enrolled in the same way it did her own.
Turkana is one of the world's most challenging environments. The area in north-western Kenya is experiencing its worst drought in 40 years and hunger is widespread in the area as its people battle crop failure and low-yield harvests after four failed rainy seasons.
Magdelene describes the luck she feels to be a teacher and credits the support she received from her mother and aunt while growing up, as well as a scholarship to pay for her higher education.
She says: "Teaching is my passion, my vocation. There is no job I'd rather do.
"I was a half-orphan. I only had a mother. It was a struggle for her, but she wanted my brother and me to go to school. I took learning seriously from the start. My mother saw that, so she collected firewood to make charcoal and sold it so I could continue."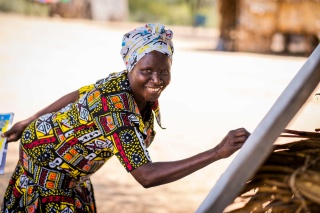 The Kakore centre opened in 2021 following a wave of demand from local parents. They knew that the existence of a pre-school would not only allow their children to gain an education but receive a daily meal from Mary's Meals, so they did what they could to make it happen.
The school has very little; until recently lessons were painted on rocks and children inscribed their answers in the dirt and dust using their fingers, but Magdelene still manages to keep the children engaged and on track. To improve their learning experience, she put forward a strong case to purchase a blackboard which she now props up against a tree to inspire the minds of the children sitting in front of her.
"The children [here] are so young and so hungry. Most of them sleep without supper because the animals are dying and food is so expensive. When these parents saw Mary's Meals arrive, they were very grateful. Mary's Meals is the reason the school exists. It makes the children happy.
"I want them to study and succeed. Most of their parents cannot read and write. But [some of] the next generation will go on to get better jobs. Then they will help their mothers as I have been able to help mine."
A lifeline in Malawi for those who need it most
Jacaranda School for Orphans in Malawi is more than just a place to learn.
It was founded 20 years ago by Marie Da Silva, who opened her family home as a place of learning to around 50 children orphaned by AIDS.
The school provides free education, medical support and nutrition for its current roll of students, many of whom take daily medication for the treatment of HIV and AIDS.
Marie says the daily food provided by Mary's Meals is vital in their fight to stay healthy: "If children are taking medication without food, a lot of them will die from that. They need porridge to be healthy, stronger, and to have potential.
"Some of the kids say they don't want to go to school, but when they remember they receive porridge, they do go. I have seen the difference it has made in our school.
"It is so important for a child. There is nothing like nutrition. There is nothing like food for a child. I have seen what it has done in our school. A school of 400 children and they're successful and they're graduating, and staying in school, and they're healthy because of Mary's Meals."
Hope for the future in Zambia
Our feeding programme in Zambia reaches some of the most vulnerable children living in the country's Eastern Province, a predominantly rural area where people lack steady incomes and access to reliable food sources or social services. We have doubled the number of children we are serving in Zambia in recent years, and more than 420,000 learners currently receive our meals there. The Mary's Meals team works closely with members of the Zambian Ministry of Education to ensure that the food is reaching the children who need it most. Here is what the department's Secretary had to say about the impact our work is having.
"Mary's Meals…what you've done to this country and our children is something that we can't even explain.
"The children who are vulnerable: those who didn't even know what tomorrow was going to be like, they didn't even know if there was going to be food for them; those who never knew that they were going to be in school. What I'm so excited about is that these children are always ready to go to school because they know there's a meal, not just an ordinary meal, a healthy meal, a meal that will make them excited and feel that tomorrow they have to be at school. They're always excited to make sure they're in school. 
"I'm so excited because I'm passionate about what it means for me, for a vulnerable child. We come from that. We have to look back and think of where we've come from, from vulnerable households, to be who I am, and I'm expecting that this child also from a vulnerable, poor background, they'll be able to be who they want to be in life."
Hear from some of the children enrolled in our school feeding programme why they attend lessons…
Arushi, 13, India
"I want to motivate the children who do not go to school. I believe only education can bring about a social and economic change in our lives.
"I want to complete my schooling by achieving A grades across all of my subjects. Then I will continue with my studies in a good college. I want to be a good teacher, and I want to help the poor village children, especially the girls like me."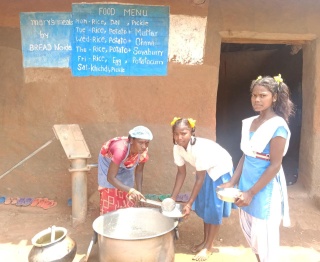 Jamkai, 15, Liberia
"Mary's Meals' food has not only reduced my hunger, but it has given me hope to learn. The amount of food cooked at my home is enough (for us) now because all of us children are already full when we come home from school.
"I like my social studies lessons as they teach me about past and present events of my community and country.
"The meal inspires me to be focused on school which helps me to study and work hard for upcoming exams."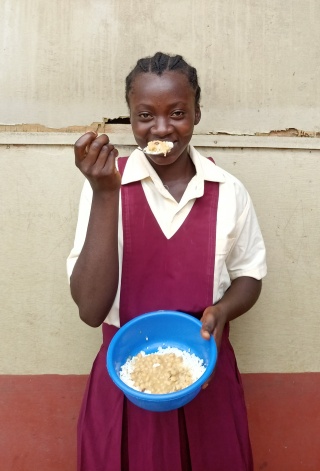 Mary, 16, Zambia
"I really appreciate Mary's Meals for making staying in school easier by providing porridge for us. I have resolved to complete my education and to ensure that there is a better future for me and my son.
"Mary's Meals porridge gives me the energy I need throughout the day to learn. At times, when I know that there is not enough food at home, I have to rely on the porridge to help me concentrate on my studies.
"I appreciate the porridge because I usually feel sleepy or opt to be at home if I am hungry. The porridge has become an important part of my education. I cannot imagine going to class on an empty stomach."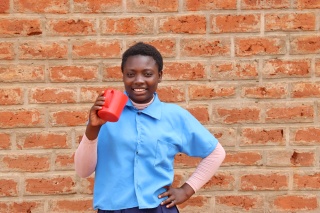 Shark, 10, Malawi
"I have remained strong and intelligent for the past six years because of the school feeding programme. Phala has made me work hard in class. Without phala, I would have dropped out of school due to hunger."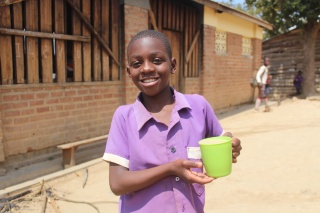 We're now serving
2,429,182
children every school day.
But more than 67 million primary school-age children are out of school around the world. Even for those attending school, hunger is one of the biggest barriers to concentration and learning.