Faith, hope and thanks in Malawi
At 77 years old, Gogo Kumpini perhaps did not expect to become sole guardian to a lively group of young boys and girls.
Published on
Ageing, widowed and still raw from the recent loss of her son – who was the breadwinner of the family – Gogo Kumpini now provides love and shelter for orphaned children, who have no other place to call home.
'Gogo' is actually an affectionate Malawian term for grandmother, which is now even more fitting as Gogo Kumpini has become a grandmother to so many. Among them are her own orphaned granddaughters, Florence, Judith and Steria who do all they can to support her in her advanced years and each enjoys Mary's Meals each school day.
Far from despairing of her circumstances, Gogo Kumpini is disarmingly realistic about the future. She takes comfort in knowing that the children have a social safety net to help them when her own time comes to an end.
I am very old and cannot work, but the fact that there are people out there who are providing Mary's Meals gives me hope that when I go to my final resting place my grandchildren will not starve.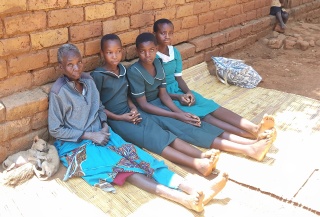 "When I was young I wanted to be a teacher but due to other life circumstances, I did not complete my primary education. My advice to my grandchildren is that they should work hard in class so that they don't face problems in the future when I will not be around.
She continues: "Even if God calls me to rest, I will go a happy person for there is a provider for these children in Mary's Meals."
Fifteen-year-old Steria dreams of finishing school and becoming a nurse. As for her 12-year-old sisters, Judith hopes to take to the skies and become a pilot, while Florence dreams of being a policewoman. They honour their grandmother by working hard in school and being thankful for the food that gives them energy and hope.
Together, they do essential chores around the home provided by their cherished matriarch. With Mary's Meals fuelling their endeavours, Gogo Kumpini can realise a new dream through her granddaughters.