Executive Director, Patricia Friel, participates in Sara Kyne's portrait exhibition
"People for Others" is a portrait exhibition of people who make the world a better place for others.
Published on
Moycullen-based artist, Sara Kyne, created this exhibition of 22 precious people in the charity sector, those who tirelessly and selflessly give of their time, their energy and their passion to change the lives of those they help.
The exhibition was on display in Galway Cathedral during the Summer of 2022 and is on display in Knock Museum during the Summer of 2023.
Sara Kyne says, "This is my way of honouring these people and drawing others to read about them and if they feel inspired to do so, to make a donation directly to their charities."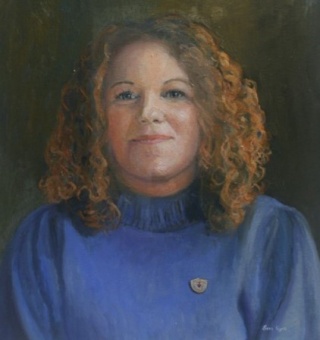 Director of Mary's Meals Ireland, Patricia Friel, was shy about having her portrait created for this magnificent exhibition showcasing the world we live in and the wonderful people striving to make life better, but when she was assured it would bring awareness to Mary's Meals, she cast off her shyness and agreed to participate, saying "if this contributes to feeding the next child waiting for Mary's Meals, then I don't see this as a choice, but an obligation."
For those who would like to visit this exhibition, it will be in Knock Museum for the entire summer – 10am to 6pm daily with free entry.