Mary's Meals are back on the menu in India
Mary's Meals are firmly back on the menu in schools in India after two years of severe Covid restrictions and closures
Published on
Children in the schools and informal education centres that are part of our programme have been celebrating as the familiar sights and smells of Mary's Meals are once again part of their daily routine.
Eleven-year-old Anamika says:
I was eagerly awaiting the reopening of school to study and to have Mary's Meals – I am very happy to see them back.
During the height of the pandemic, and even when teaching resumed in some areas, restrictions meant we were unable to provide on-site meals to some of the country's most vulnerable children. Instead, our faithful partners in India, BREAD, worked tirelessly over the last two years to deliver a programme of take-home rations for children who might otherwise go without anything to eat.
"When everything else seemed to stop, Mary's Meals continued supporting us through BREAD, so we would have the strength to fight the situation. I feel very grateful for their love and concern."
With restrictions now lifted, our partners are back in local communities retraining volunteers and preparing kitchens as we continue to roll out our meals of curry, dahl and rice. With such an extensive programme across a wide area, this will continue for many weeks to come until we are up and running in all 132 schools.
Whilst the pandemic presented a great challenge, we have continued to work closely with BREAD, adding even more schools to the programme in India. This latest work means we will be feeding more than 60,000 children when our rollout is complete – around 20,000 more than prior to the pandemic.
Parents are welcoming the return of Mary's Meals in schools, after struggling to feed their families. Anamika's mother, Arti, says: "I hope my daughter will study with full heart and mind and is able to catch up on what she has missed. She is now getting nutritious meals every day in the school, which I cannot afford. I hope she will grow happy, healthier and become a good citizen."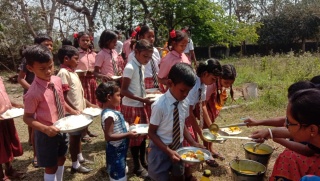 Mary's Meals' school feeding programme serves some of the most marginalised children in India. We work with BREAD across eight states in northern India as well as providing meals to vulnerable and abandoned children in urban slum communities in larger cities like Delhi, Patna and Kolkata. These meals encourage children with little support to attend schools where they can learn and play safely.