International Day of Friendship 2022
Today, 30 July, marks the United Nations' designated day recognising friendship through the lens of peace and diversity to encourage international understanding, compassion and respect for one another.
Published on
What is International Day of Friendship?
International Day of Friendship shines a spotlight on the role friendship plays in enriching our lives, as well as entire communities. And, when friendship extends beyond borders, it can play an important part in promoting peace between people from different cultures and backgrounds.
We've curated a collection of stories from around the world showing the power and impact friendship can have on the human spirit. From a relationship forged under the hardest of circumstances to a volunteer creating an inspiring fundraising initiative in the memory of a great friend, these stories remind us that friendship can bestow a bright light in the darkest of places.
Joyce and Vanessa – perfectly in tune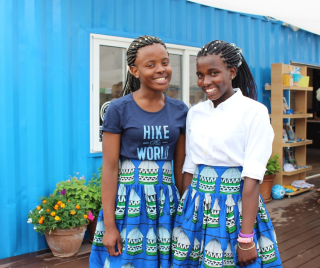 Two girls with mighty voices from Jacaranda School for Orphans in Malawi went on a life- changing journey when they were chosen to sing at Mary's Meals events in Scotland and Austria. Although already good friends, travelling and singing together united Joyce and Vanessa in an enduring friendship solidified by experiencing many firsts together.
During their trip, they had a starring role at a Mary's Meals event in Glasgow's Royal Concert Hall and were given a tour of the city and chance to meet local schoolchildren of a similar age. They discovered their first taste of cold weather and the joy of sliding along frozen pavements together, their first stay under the crisp white sheets of a hotel room, the sweetness of Nando's corn on the cob, and a trip to the cinema to see Sunshine on Leith, where they danced in their seats to the music from the Scottish band, The Proclaimers. During the Mary's Meals open day, they were interviewed about their trip and they both burst into the band's hit 500 Miles!
Their love for the song continued and when Joyce and Vanessa returned to Malawi, they taught the song to all their classmates at Jacaranda. This resulted in the music video below that was re-shared on social media by The Proclaimers themselves who love this cover of their song!
This lifelong friendship affirms that joy shared is joy amplified, and that to have a great friend to travel alongside, discover new experiences with –and share the stories when you return home – is a great gift. And, as the Proclaimers would say, when Joyce and Vanessa haver, they know they're going to be havering to each other.
Ambassadors for peace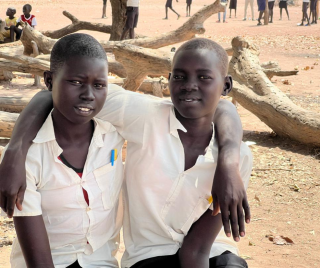 Teresa and Tabitha shouldn't even be friends, let alone ambassadors for peace.
And yet the friendship built over a Mary's Meals lunch has become a beacon of hope for a better tomorrow for the children of South Sudan, whose childhoods and futures have been marred by decades of war. The girls' families are from opposing clans in different states, pitted against one another in a bitter battle for supremacy, all the while fighting to keep their families safe. These girls were destined to spend their lives not knowing the joy they could bring one another.
Last year, that trajectory changed for Teresa and Tabitha thanks to one powerful act of fate and many more simple acts of kindness.
Teresa's home village was submerged in rainwater during some of the worst floods to hit South Sudan in decades. The effects were felt by around 700,000 people across the country, destroying homes, schools, livestock and crops. The risk of waterborne disease alone made their homes and villages uninhabitable overnight.
After months of uncertainty and upheaval, Teresa's family settled near Tabitha's village, and she finally managed to enrol in school where our partners, Diocese of Rumbek, serve Mary's Meals to students to help encourage them to stay in education.
Alone and afraid, Teresa was too timid to stand in line to receive her school lunch. Seeing a young girl just like herself, Tabitha approached, smiling, offering to share her meal and perhaps hoping they would become best friends. And in that moment, a lifetime of conflict between two factions was dismissed.
The floods and fighting that caused people to flee the security of their homes were not wanted in South Sudan, but this new wave of tolerance, acceptance and unity among the younger generations is warmly welcomed. While the history of South Sudan is as short as it is tumultuous, a new generation is learning as one in school and healing some of the wounds that, for many, are still very raw. The children may be too young to bear such a heavy responsibility, but these friendships are the foundation stones on which peace may be built.
Teresa and Tabitha are inseparable. They sit together in class, support one another and share the joys of childhood wherever they can be found. A simple bowl of food and the hand of friendship proved to be a powerful catalyst for change in their young lives.
Finding pockets of peace and purpose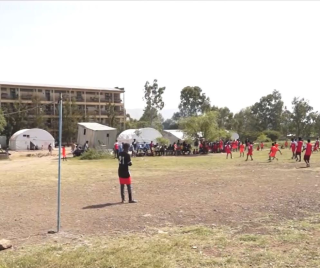 Before conflict erupted in Nohe's town in Ethiopia, the 15-year-old was in the 7th grade, living with his parents and two younger sisters. He says: "On May 17, 2021, war broke out and I fled with my friends and many other children and adults in our village. But, when we came back, we were arrested, beaten and interrogated. I saw men wearing soldiers' uniforms shooting at people in the street. I saw the bodies of my friends laying in the football playground where we used to play."
Fleeing for his life, Nohe undertook the hard crossing to a city he'd never been to. He says: "I decided to go to Mekelle, a town I knew only by name and where I had no relatives. My only reason being to stay as far away as possible from my home village, where I lost my friends. I begged for some food at a restaurant I found along the street. The owners were generous, and they gave some food and money for transportation along with directions to the IDP centre."
Living alone at the IDP (Internally Displaced Persons) centre since the end of May, Nohe is not alone in his harrowing journey – there are tens of thousands of children in the IDP camps in Mekelle – yet he feels lonely, separated from his family when he needs them most.
He speaks with remarkable honesty about his first few months there: "I always felt lonely and often dreamt about my family at night, panicking and shivering when hearing gunfire or any loud noise. I hated being in a gathering and the only time I sat with a large group was at the feeding room of the IDP centre. When I looked at other children playing football, I remembered my friends in my home village who lost their lives and I cried, and even if I played with the children there, we bickered and quarrelled over little things and those disputes usually escalated to physical fights."
Two teachers living at the same camp as Nohe, spoke of significant improvements and some positive behavioural changes in the war-affected children living there after the emergency programme was put in place. They say Nohe has transformed from a lonely and shy teenager to now interacting with different people and has even become the captain of the centre's football team. A positive change that Nohe himself notes: "At present, I have made so many friends, not only from the IDP centre, but also with children outside. And now as a captain of our football team, I lead my teammates during training sessions and competitions with harmony and good understanding. When I remember my family and my friends and feel sad, I go to hear music or play with my friends, or I go to a nearby church to pray."
We're now serving
2,429,182
children every school day.
But more than 67 million primary school-age children are out of school around the world. Even for those attending school, hunger is one of the biggest barriers to concentration and learning.