Feedback Madagascar: Interview with Jamie Spencer
We speak with the founder of Feedback Madagascar – Jamie Spencer - about the disastrous effects of climate change on an already struggling nation.
Published on
"In Madagascar, the difficulties are pretty much always extreme"
You might recognise from nature programmes an extraordinary fact about the ecosystem in Madagascar: 90% of its wildlife isn't found anywhere else in the world. Sadly, for this unique and fascinating country, it is also among the poorest countries on earth.
And there has been no relief for the people that call it home. The country has been devastated by year after year of severe drought and other extreme weather systems. According to the World Food Programme (WFP), Madagascar's population is the first to face famine created as a result of climate change, with more than one million people in southern Madagascar struggling to get enough to eat.
To find out more about the worsening situation, we spoke with our partner organisation, Feedback Madagascar, for a first-hand report on what is happening, and how it is affecting the children born into the most challenging of circumstances.
Jamie Spencer founded Feedback Madagascar nearly 30 years ago: "This year, Madagascar has experienced it all - high COVID numbers and weeks of state of emergency. There has been a severe drought in the south part of the island and several major tropical storms which have each wreaked havoc in their own ways, causing, even more, hunger and deprivation."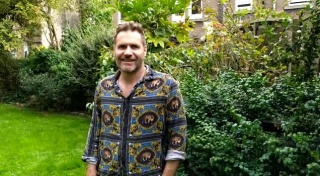 "In a country like Madagascar, the difficulties are pretty much always extreme. So, from a local point of view, it's just more of the same troubles. The huge impact, of course, was the closing of the borders (due to Covid restrictions), the crumbling of the economy, and the real increase in the prices of everything. So, that's probably the most direct impact which is making people's lives so much harder.
In the south, which is experiencing this drought, it's extra dreadful. A series of droughts – for, I think, four seasons now – where the production and the success of the harvest has been hopeless has meant that there's an awful lot of suffering there. There is a compounding of problems."
He continues: "80% of the people are subsistence farmers, utterly and directly dependant on a healthy environment. We believe that to solve any problems and to prevent other problems undermining your activities, you have to work on all fronts. We do this with an approach, which we call 'participative'. So, everything we do is very much with the people's involvement from beginning to end and long-term, because these are the biggest problems on the planet. They're not going to get solved in three years.
So, we commit to our working area long-term without any exit strategy.
Jamie also reflects on Feedback Madagascar's partnership with Mary's Meals: "We find ourselves working with our amazing partner, Mary's Meals, who completely respect and understand our approach and philosophy and their objectives and model marries perfectly with it. So, for us, it's a match made in heaven.
"When we started, we had no idea how it might impact. We knew it would be popular because we are providing something additional. But we have seen significant improvements. For example, enrolment in schools went up immediately. And teachers are reporting that there is consistent attendance by pupils since the school feeding began."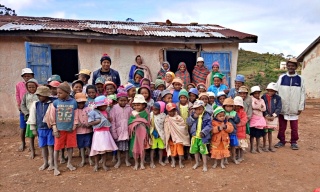 Jamie also remarks on the way the people of Madagascar contribute to the programme: "We also see an enormous impact on the organisation of community teams, community groups, the building of the capacity of people to work together, to work with a third party like ourselves. That to us, is a huge impact. For example, where enrolment and attendance has increased, there's crowding in schools. Parents have taken it upon themselves to build extra classrooms. This is a catalytic project. It creates a foundation, a window of opportunity to do other things.
"So not only is the Mary's Meals programme having a direct and enormous impact on education, hunger, but it's having a structural impact on communities, which we're very excited about. And we're orientating ourselves to seize this opportunity that Mary's Meals is creating."
Jamie leaves us with his dreams for Madagascar's future: "I hope that Madagascar gets enough well- placed investment to secure the lives of all 25 million people, so they can live freely and take advantage of the opportunities that exist in this world. So too that they can enjoy the beautiful country that they live in and take care of it the way they absolutely want to."
In these times of extraordinary need in Madagascar and many other countries around the world, Mary's Meals is more determined than ever to continue its work with some of the world's most vulnerable children and their communities.
Learn more about how you can help Mary's Meals reach the next hungry child.
We're now serving
2,429,182
children every school day.
But more than 67 million primary school-age children are out of school around the world. Even for those attending school, hunger is one of the biggest barriers to concentration and learning.