Uganda
Mary's Meals feeds 12,196 children every school day in Uganda!
Published on
Life in Uganda
Uganda is currently ranked 159 out of 189 countries in the Human Development Index (HDI).  Over 41% of the population lives below the International Poverty Line ($1.90 per day). It is estimated that nearly half of Uganda's population consume fewer calories than they need per day and one in three school children have no food to eat during the school day.
Uganda is a landlocked country in East Africa. It is bordered by Kenya to the east, South Sudan to the north, the Democratic Republic of the Congo to the west, Tanzania to the south, and Rwanda to the south-west.
Uganda has one of the youngest populations in the world – 57% of people are under the age of 18 – and many children are responsible for supporting their family. As a result, attending school and gaining an education is low priority. Around two thirds (65%) of children fail to complete primary level education.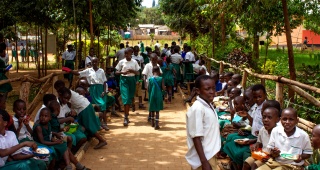 Mary's Meals in Uganda
Mary's Meals has been serving school meals in Uganda since 2008.
We feed children living in the capital, Kampala, and some in Gulu, in the north of the country. We also have programmes near the town of Soroti in a remote area of Eastern Uganda.
We work in partnership with the Emmaus Foundation, which aims to provide life-changing opportunities for the people of Uganda.
Mary's Meals currently serves school meals to 12,196 children in 12 schools in Uganda.
Food Changes the Story
Help us reach the next hungry child
When did we start working in Uganda?

Mary's Meals has been serving school meals in Uganda since 2008

How many children do we feed in Uganda?

We are currently serving 12,196 children in 12 schools in Uganda

What meal do we provide?

The typical meal served is maize and beans

Where are we based/where do we operate?

Kampala, Gulu, and Soroti

What is the capital city of Uganda?

The capital city of Uganda is Kampala

What language(s) are spoken in Uganda?

Uganda's official language is English. The three major indigenous language families are Bantu, Central Sudanic, and Nilotic. Swahili and Luganda are also widely spoken.

What is the population of Uganda?

The population of Uganda is 48,727,213

What currency is used in Uganda?

Ugandan Shilling (UGX)